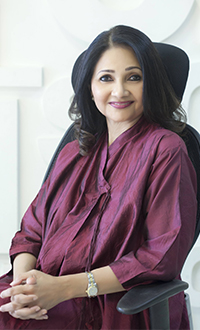 Pinky Dalal – Founder
Children's Nook Group of Schools & JBCN Education
"…from one mother to another"
Dear Mommies & Daddies,

It is with great pleasure and gratitude that I introduce the Children's Nook (CN) Group of Pre schools to you. From the unique one- branch kindergarten that I started over 25 years ago, we have grown today to having multiple branches on a pan- India basis. I owe this success largely to the unwavering support of our parents and teachers and to our unique curriculum.

Children come to us in their formative years when their minds are highly receptive and active. The knowledge given to them between the ages of 0 and 5 stays with them for life and forms the basis for future education. Having recognised the importance of pre-school education and the redundancy of rote learning in today's scenario, we have developed our curriculum to create thinkers who can analyze and apply their knowledge to real-life, problem-solving situations.

Our cutting-edge curriculum is supported by teaching methodologies which have evolved from years of practical experience, formal educational systems such as the international Montessori, Play way and Indian Gurukul systems, and my own personal experiences with my son, who is today my business partner. By following our motto, "Learning is easy…when learning is fun", we ensure that our children learn better by enjoying the process of learning.

We proudly boast of an amazing set of facilitators, as we hand pick our faculty, we nurture them train them and prepare them through intensive workshops and curriculum trainings, as "The influence of a good teacher can never be erased". At CN's we believe that only a teacher that loves teaching, can teach children to love learning. "Educating the mind without educating the heart, is no education at all" . I have strongly followed this principal in raising my son and I follow this, with all my learners as well. I firmly believe that meaningful education is that which raises compassionate human beings and our curricula imparts values by means of stories, moral dramatizations and actual practices.

As an educator, I can assure you that we are building in our children not only academic excellence but also character. As a mother, I can promise that we will look after your children like they are our own.

Welcome to the Children's Nook Family!

Thank you.