Founder & Chairperson
Mrs. Pinky Dalal has been credited with pioneering innovative teaching methodologies in the pre-school industry that revolutionized the way pre-school education was imparted. Her visionary approach to high school management captured the imagination of parents and students alike. Her approach focuses on smart learning techniques and provides opportunities for every child, developing their strengths and enhancing their all round skills – physical, social and emotional. Her practical, hands on philosophy makes each of the projects that JBCN is involved in unique and effective. Her path breaking programs from Special Needs' to the Aware Parents Foundation to a program for gifted children, ensures that the corporate team is continuously evolving and growing with such direction on a pan India basis.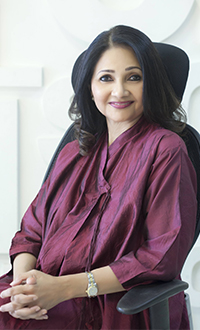 ---
Board of Directors – Letter
Dear Moms and Dads,
We are thrilled to be given the opportunity to bring you into our world of education.
As a young team, we are passionate about education but, more importantly, having been exposed to both national and international systems of education, we very naturally incorporate both into our curriculum. Our curriculum has always been application -based and credited for innovation and quality and as we take Children's Nook (CN) into the future we hope to build on and strengthen our core values.
As a team, our vision for CN is the kind of preschool that we would want— a place where children enjoy learning, are encouraged to question, not just listen, and where they learn important life skills like sharing, caring, respect, and so on. As educators, our motto, Learning is easy…when learning is fun, sums up our educational philosophy. We strongly believe that if you enjoy what and how you are learning you will learn for life and always retain the passion to learn more.
For us, learning by understanding is the crux of an academic programme because as we move into the next century it is not content but concept that will help us move forward. When we all think back to our education, we don't remember all the content but the concepts and techniques have stayed with us. We believe that conceptual understanding is possible at every age and makes education more relevant. We want our children to be lifelong learners who understand what they are learning and why they are learning it, which is why we have introduced Conceptual Learning Units (CLUs). These CLUs essentially capture information from the familiar world that the children recognize but also challenge them to truly think, analyze and question. Once our children are familiar with their concepts, our Learning Units allow us to build on this knowledge through extensions based on the children's questions.
In today's world, confidence in expression is what every child needs which is why we are focusing on a language programme that allows children to express themselves, develop a love for reading and a critical appreciation of books.
Our strong academic programme is complemented beautifully by our co-curricular programme which, conducted with the help of experts, allows us to develop the mind, body and soul of each young learner.
As children, we have experienced the protectiveness that parents feel when their children go into a new environment; so we promise you that your children are our children and we will guide, nurture and mentor them in the way that you do… Welcome to our world of learning.
Regards,
Hemali Dalal, Kunal Dalal